Top Alaska Experiences For Every Type of Traveler
Posted on 01/17/2022
Whether you're a well-versed traveler or a new explorer, there's a reason cruising Alaska sits at the top of must-do lists for so many around the world. From zipping through the vast open wilderness and experiencing the thrill of a 30-ton whale gliding under your catamaran to taking spectacular scenic tours through historic towns where you can dine with locals, the best way to cruise
Alaska
is with
Norwegian
.
An Alaska cruise allows you to unpack once and visit multiple must-see ports that give you an authentic look into rich culture and extraordinary natural splendor unlike anywhere else in the world. You can bring the whole family on an unforgettable Alaska cruise vacation and take a spin on a thrilling race track at sea or enjoy a more intimate journey cruising by the Hubbard Glacier and strolling flourishing nature trails. No matter your explorer-style, this guide offers some of Alaska's top experiences based on the activity level you're looking for, so let's dive right in!
Few experiences are as impressive as viewing a glacier from a canoe.
Alaska for The Thrill Seeker
For travelers that want a full-on Alaska adventure jam-packed with experiences that immerse you deep into the wilderness of The Last Frontier, you may want an extra couple days to get your fill. Alaska Cruisetours are perfect for that! Thrill Seekers will jump for joy at the 12-Day Denali Explorer Pre-Cruisetour with 7 additional days on land before your cruise with overnight stays in Valdez, Fairbanks, Denali and Anchorage.
This Cruisetour package includes exploring Denali with a 7- to 8-hour Tundra Wilderness Tour, a scenic journey on a deluxe dome rail, followed by a sled dog musher's kennel for a private tour and beyond with plenty of time for optional activities such as whitewater rafting, helicopter flightseeing, hiking and more!
If you're not interested in extra time on land, but still want adventure, begin your sailing and make your way to Juneau, also known as Alaska's Peak Experience, where you can take a Sea Kayak Adventure shore excursion and kayak along Juneau's coast, getting the chance to spot incredible wildlife like porpoise, seals, sea lions, eagles and even whales.
For a truly emblematic Alaskan journey try out one of our popular Go Local tours, which provide an authentic, immersive cultural experiences that connect you with locals in small groups of no more than 25 guests for a deeply engaging adventure. The Go Local Ketchikan Native Tlingit Walking Tour offers a Tlingit guided journey through the historic Creek Street, Married Man's Trail and the salmon spawning ground, where you'll get to savor delectable tribal dishes and chat with locals.
Kayak through Alaska for a different perspective on nature.
Alaska for The Spirited Explorer
Perfect for families young and old, The Spirited Explorers are those who want a fair balance of excitement while still conserving energy for all the other activities available on and off-ship! You may still want a few additional days on land, so we recommend the 12-day Denali Explorer Cruisetour. Enjoy five extra days before your cruise with overnight stays in Fairbanks, Denali, and Anchorage. This similar but less demanding Cruisetour allows you to journey along the Alaskan railroad, enjoy a private tour through a dog musher's kennel and soak in thrilling sites with spare time for exploring, shopping, sightseeing, and more!
Spirited Explorers may also enjoy a ship like Norwegian Bliss, with itineraries full of fun activities and exciting destinations, perfect for families. Aboard Norwegian Bliss you'll make your way to Skagway where you can take an awesome Go Local Tour into Skagway's wild and woolly past, hearing tales of the early settlers and discussing the town's raucous, free-wheeling history over a few beers. Norwegian Bliss also cruises to Icy Strait Point.
And of course, you haven't seen Alaska unless you see a whale in the wild, so make sure you sign up for the Whale Watching & Zip Rider shore excursion to the Point Adolphus area, home to Alaska's largest resident whale population with guaranteed whale-sightings, followed by an adventurous zipline in Icy Strait Point.
Enjoy thrills with unbelievable views.
Alaska for The Scenic Sightseer
Cruising Alaska isn't all adrenaline and high-energy. Casual landscape lovers can still enjoy just as much dramatic beauty from the comfort of catamarans and deluxe buses with plenty to brag about when they get home. Enjoy 4 days of land in Alaska with our Denali Express Cruisetour, including overnight stays in Anchorage and Denali and a railroad tour of Alaska's rich wildlife and profound beauty. You'll also enjoy free time to enjoy a plethora of unique activities available in the area.
For spectacular views in Ketchikan, we recommend the Misty Fjords & Wilderness Explorer shore excursion where you'll take a guided luxury cruise aboard one of the fastest sightseeing vessels in Alaska, passing colorful fishing boats, floatplanes and extraordinary wildlife. As you venture through rugged coastlines and enter the Behm Canal, surrounded by the pristine beauty of Misty Fjords, you'll stop to view a bald eagle's nest and a Tlingit pictograph, admire New Eddystone Rock, an immense volcanic spire rising from the sea and explore Rudyerd Bay, an ice-carved masterpiece deep within the Monument. Learn the natural history of the fjords while gliding quietly beneath 3,000-foot vertical cliffs. Then experience native culture and history presented by a Tlingit storyteller, watch a native artist at work, or enjoy a tour-related video presentation.
The Best Time to See the Northern Lights in Alaska
An aurora, also known as the polar lights, the northern lights, or aurora polaris, is a natural light phenomenon predominantly seen in high-altitude regions. Illuminating the sky with brilliant ethereal colors, this magnificent spectacle is a result of disturbances in the magnetosphere caused by solar wind. The aurora borealis' peak two seasons in Alaska occur around the equinoxes, which take place in March and September. This colorful event is a must-see no-matter what kind of traveler you are and there are a number of different types of aurora tours that will help you catch a glimpse of one of the world's most pursued natural events.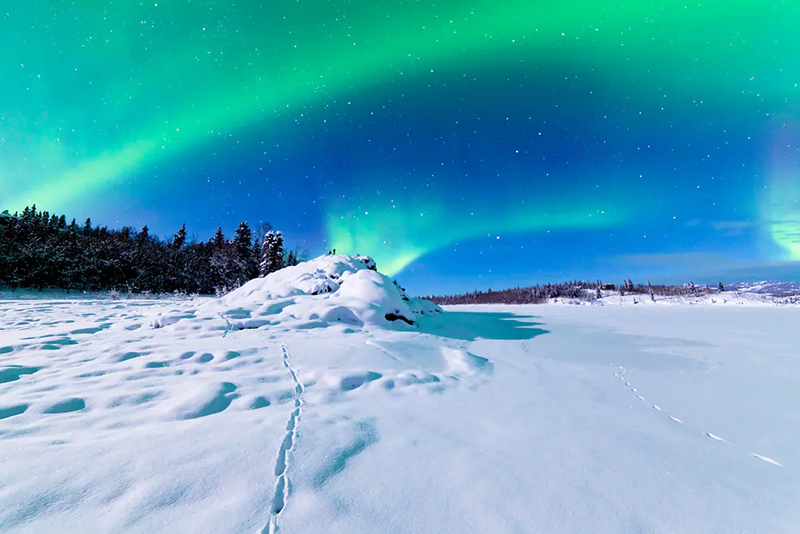 Our extended Alaska season allows for a better chance to see the stunning Aurora Polaris phenomenon.
With the youngest fleet sailing Alaska and the only cruise line with an extended Alaska season through spring and summer for optimum aurora sightings among other top attractions, the best way to cruise Alaska is with Norwegian. We offer incredible
Alaska cruise deals
on any of five award-winning cruise ships sailing from seven different ports, all designed to give you the freedom to explore the Last Frontier on your terms. Whatever kind of adventure you're looking for, it's guaranteed to be life-changing if it's in Alaska. So find the journey that best suits you, grab your gear and feel what it's like to let the outside in with Norwegian Cruise Line.